When we created Lemonade Stand, we envisioned an agency that helped companies around the globe build their digital brand, grow their online business, and manage their effectiveness. We would offer our services to those businesses, using the years of experience we've gained and the tools we've created.
Recently, we began to think about all the different types of companies and industries that we've served over the past few years that have helped us get closer to that mission. However, if we're to be honest with ourselves, there is one industry and community that we have yet to make any impact at all in — our very own, the internet marketing community.
And if our vision is to really help other companies "Build. Grow. Manage." than why shouldn't those same values extend to other internet marketing agencies who could benefit from our experience or resources? After all, the contributions of those in the industry who so graciously share their knowledge is what has helped us grow our agency to this point, anyway.
So, over time, we'll be sharing some of the very resources and tools that we have developed and use to build, grow, and manage our own agency on an every day basis.
Starting with…
---
Lemonade Stand's Ultimate Profit Margin Calculator for Internet Marketing Agencies
---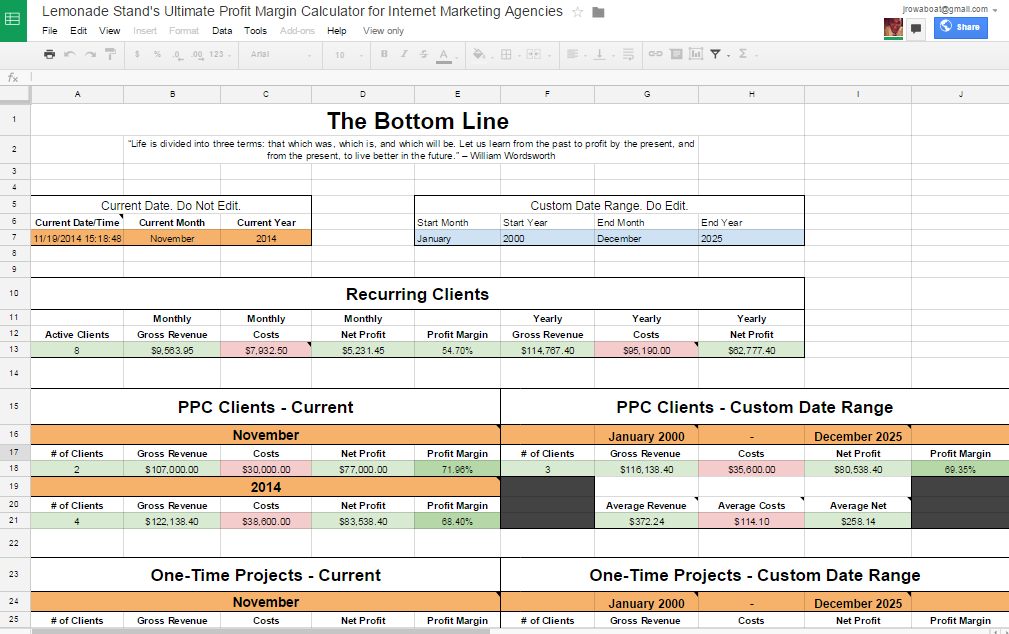 Wow, that was a mouthful.
Seriously, the name might be hard to get out, but the function of this calculator is very simple and straight to the point. Use it to calculate your profit, loss, and margin for each SEO, PPC, or one-time client your agency serves as well as the overall P&L for your business using all clients and services combined.
This calculator will help answer the following questions every internet marketing agency has:
Which of my clients nets the most profit for my business?
Which clients are the biggest drain of my resources?
Will I make enough money if I quote a business a certain amount?
Where is all my gross revenue going?
How much does my employees' wages affect my profit margin per client?
Are the right employees working on the right clients?
How much do each of my services make?
Who is my top salesman?
How much is overhead killing my bottom line?
What is the net profit of my business?
What kind of margin am I making on each of my clients and my overall business model?
And more…
And, at the very least, you can use the calculator as an easy way to journal your clients, track who's managing what account, and other tidbits.
We called this calculator "Ultimate" but I'm sure there are things I've probably missed or things that don't work for every type of agency. Some of those things, I have decided to leave off because it really doesn't fit our business model here at Lemonade Stand. However, if you charge your clients in a fairly standard way, this calculator should be beneficial to you.
Feel free to share your feedback about what might be missing as I'm always tweaking the calculator and may update it with more features at a later time.
If you're ready to use the calculator, click the button below. It's on Google Drive to make it easy for collaboration between you and your team.
Get the Ultimate Profit Margin Calculator Here
If you want to learn more about how the calculator works and how to use it, be sure to view the full post on Lemonade Stand...
View full post
.